Entre Les Murs to be Screened in Tournées Film Festival
---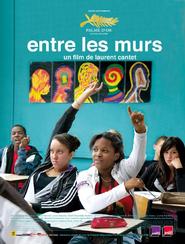 The Hamilton College French Club Tournées Film Festival will screen Entre Les Murs (The Class) on Sunday, Feb. 21, at 2 p.m., in the KJ Auditorium. The screening is free and open to the public.

Entre Les Murs is a glimpse into a Parisian classroom filled with multicultural students, and it is a powerful story about both the educational process as well as the process of cultural assimilation. The film was based on the bestselling book by teacher François Bégaudeau, who not only wrote the screenplay for the movie but who also plays himself in the starring role. Entre Les Murs is directed by Claude Miller and won the coveted Palm d'Or for Best Writing Adaptation at the Cannes Film Festival in 2008.

The Tournées Festival is funded by an annual grant awarded to American colleges and universities to support the screening of contemporary French cinema. Grants are awarded in hopes that schools will begin their own self-sustaining French film festivals. The grant is organized by FACE, the French-American Cultural Exchange, which is a non-profit organization dedicated to nurturing French-American relations through innovative international projects in the arts, education, and cultural exchange. This is the first time that the Hamilton College French Club has received a FACE grant.