Entrepreneur Club Aims to Save Students Money on Books
---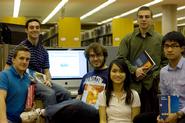 "We're confident that it will save students some money," says Jason Mariasis '12, a member of the Hamilton Entrepreneur Club, as he loads the club's brainchild on the laptop screen. The website's interface is simple, sleek and intuitive. Visitors to the site merely select their state and their school from two large drop-down panels and then click one of the two shiny blue buttons: BUY A TEXTBOOK or SELL A TEXTBOOK.
"It's incredibly convenient," Mariasis says. He navigates the website with ease, demonstrating how a student might go about selling an economics textbook. Then, a few clicks… and the ad has been posted. Mariasis nods his head and says again: "Yes, we want to help students save money and make money." Indeed, the non-profit website –
www.getmytextbooks.org
– will be able to do just that.
"Most students are irritated, frustrated," Mariasis remarks. "You pay $200. You sell for $70. The bookstore makes a huge profit." However, the Entrepreneur Club promises "another option" through its website.
Based on the enormously successful site Craigslist.com, www.getmytextbooks.org makes it easy for a student buying or selling a textbook to locate another interested student on campus. For example, a student wishing to sell her chemistry textbook would place an ad that lasts for 150 days. Hopefully, during that time, someone would contact her, at which point the site sends an email to her Hamilton account.
The two students set up an independent exchange and eventually a transaction will be made. "There are no shipping and handling fees, and no credit card usage. There's nothing to lose! It's something like a local eBay," Mariasis says. Professors may even post their required books to the website in order to further simplify the process.
The website launches on Saturday, May 1, at 4 p.m., in the Kirner-Johnson Auditorium.
Mariasis explains that the site is already in its third version and that he hopes to include other schools in the near future. "We've already contacted other entrepreneur clubs at Tufts, BU, Cornell, among others. We want to touch base with Ithaca and Colgate soon," he says. "We're getting the word out, but we hope that it'll spread by word of mouth," Mariasis remarks. (According to a poll conducted by the club, 96 percent of surveyed students responded that they "absolutely would" use the system; eager word of mouth seems guaranteed.)
The 15 members of the Entrepreneur Club invested their own money in the website. Interestingly, the administration has no involvement in the site's creation. "I hope that'll be a selling point," Mariasis remarks with a smile.
"Everyone in the club strongly believed in the idea," he says. "Everybody is incredibly talented, and I couldn't do it without them." Mariasis pulls out a business card and points to the website's motto: For students, by students. "That's what we're all about," he concludes. "Take everyone else's experience and better your own."