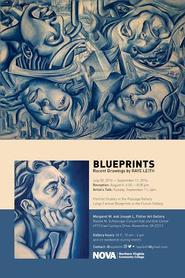 Margaret W. and Joseph L. Fisher Art Gallery will be exhibiting four large format drawing installations and eight portrait studies by Raye Leith (Osserman) K'78. The gallery is located in Alexandria, Virginia, at the Rachel M. Schlesinger Concert Hall and Arts Center.
The exhibition will be open from July 30 through September 11. There will be a reception on August 1 from 6-8 p.m. and on September 11, there will be an artist's talk at 4 p.m.
While at Kirkland, Leith was a studio art major. She was actively involved as a member of both the women's field hockey and lacrosse teams. She was also a part of the acapella group, Special K. After graduating, she went on to receive her Master of Fine Arts at the Rochester Institute of Technology in 1982.