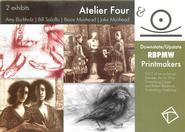 A collection of intaglio prints by the Atelier Four will be on display April 4-29 at The Ink Shop Printmaking Center in Ithaca, N.Y. An opening reception will be held April 4, at 5 p.m., at the center located on East State Street.
Professors of Art Bruce Muirhead and William Salzillo, along with Amy Buchholz '80 and Jake Muirhead '86, make up the Atelier Four.
The printmakers have worked collaboratively for more than 30 years. Based on teacher/student relationships that developed into life-long friendships, the Atelier Four was formed in 2008. The group is "committed to keeping alive the rich tradition of hand-pulled intaglio printmaking while at the same time promoting its contemporary relevance."
The teacher/student relationships they forged at Hamilton's print studio developed into life-long friendships that have shaped their art and careers. From a historical perspective, their work references the enduring influences of the northeast printmaking laboratories centered around Robert Marx at Syracuse University, David Bumbeck at Middlebury College and Harvey Breverman at The University of Buffalo.