Exhibition Showcases Employee Talents
---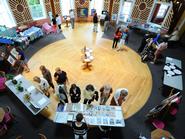 The Community Luncheon on Wednesday, August 7, shared the spotlight with the first Employee Arts and Crafts Exhibition. Thirteen talented members of our community displayed an assortment of items ranging from bonsai trees to handcrafted wine.
Quilts, crocheted items, books, marbled paper and a Swarovoski crystal bracelet decorated long tables, while easels holding cartoons, photographs and paintings added to the variety of works on display.
A steady flow of visitors came to view the two-hour exhibit and talk with the employees about their not so hidden talents. Visitors were asked to vote for their favorite piece. One visitor voted for "each and every one of them – they are all fabulous!"
The winners of the best in show prizes were Linda Michels for her paper marbling, Bobby Evans for his paintings and intaglio print, and Cathy Brown for her bonsai trees and painting.
On behalf of the Employee Environment - Professional Development (EEPD) Committee of the Staff Assembly, we extend a "thank you" to everyone who helped to make this event a great success.