Explorer Wade Davis Mt. Everest Lecture Rescheduled
---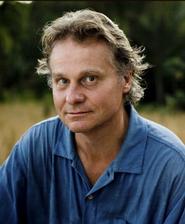 A lecture by prize-winning author and explorer Wade Davis has been rescheduled for Wednesday, Dec. 12, at 7 p.m., in Bradford Auditorium, KJ. Davis' illustrated lecture is titled "Into the Silence: The Great War, Mallory, and the Conquest of Everest." Davis is an explorer-in-residence for the National Geographic Society, which has named him as one of the Explorers of the Millennium. The lecture is free and open to the public.
Davis wrote his first book, Passage of Darkness (1988), following his research of folk tales connected to zombies in Haiti. His most recent books include The Sacred Headwaters (2012), and Into the Silence: The Great War, Mallory, and the Conquest of Everest (2012), which he will discuss at Hamilton.
Davis has earned bachelor's degrees in anthropology and biology, in addition to a Ph.D. in ethnobotany from Harvard University. His research since then has taken him across the globe. He spent more than three years in the Amazon and Andes, living among 15 different indigenous groups, while working for the Harvard Botanical Museum. For his explorations Davis has won numerous awards, including in 2011 the Explorers Medal, the highest commendation of the Explorers Club, and in 2009 the Gold Medal of the Royal Canadian Geographical Society, among others.
Copies of Davis' book will be available for purchase and for signing at the event. The lecture is co-sponsored by the Hamilton College Writing Program, History Department, and Outing Club.