Workshop Explores Photography, Creative Writing
---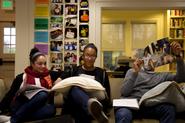 The Womyn's Center partnered with the Institute for Global Africana Studies to bring (Eye)dentity Cr(eye)sis: a photography and creative writing workshop to campus on Oct. 24. Student participants captured images using photography that they felt best represented how they identify. This workshop included a showcase of Neleh Sawsiengmongkol's work, examples of community work that is linked to the arts, and an interactive, hands-on creative component that encouraged students to explore their identity in meaningful ways.

Participant Beth Comatos '15 said, "The 'Eye-dentity Crisis' Workshop was enjoyable and eye opening. It combined two expressive art forms, photography and creative writing, into one lesson of self-identification. For many people, expressing oneself through the lens of a camera is difficult. They are stumped by the inability to use their words to convey a specific message about themselves.

"However, for others like me it proved to be easier to avoid the confusion that words create, and portray myself through a landscape/silhouette photograph. When identifying yourself to others through something open to interpretation like a picture, ideas may be misread or confused," Comatos said. "In the workshop, students had the chance to capture an image that they believe defined them, and then hear the interpretations of others of their photo, some right on target and others, not so much."

The images and artwork will be on exhibit soon in the Sadove Student Center.