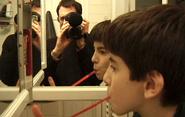 American documentary filmmaker and Harvard University professor Ross McElwee will present his most recent film, Photographic Memory, on Sunday, April 26, at 2 p.m., in Bradford Auditorium in the Kirner-Johnson Building. McElwee's film is part of the spring F.I.L.M. (Forum on Image and Language in Motion) series at Hamilton College and is free and open to public.
McElwee's Photographic Memory explores the filmmaker's troubled relationship with his late-adolescent/young-adult son, as well as his own challenges in making a new life after divorce.
He has made seven feature-length documentaries as well as several shorter films. Most of his films were shot in his homeland of the American South, among them the critically acclaimed Sherman's March, Time Indefinite, Six O'Clock News, and Bright Leaves. Sherman's March won numerous awards, including Best Documentary at the Sundance Film Festival. It was cited by the National Board of Film Critics as one of the five best films of 1986. Sherman's March was also chosen for preservation by the Library of Congress National Film Registry in 2000 as a "historically significant American motion picture."
McElwee's films have been included in the festivals of Berlin, London, Vienna, Rotterdam, Florence, Sydney, and Wellington. Retrospectives include the Museum of Modern Art; the Art Institute of Chicago; the American Museum of the Moving Image, New York; and États généraux du film documentaire in Lussas, France. McElwee has received fellowships and grants from the Guggenheim Foundation, the Rockefeller Foundation, the American Film Institute, and the Massachusetts Arts Council. He has twice been awarded fellowships in filmmaking by the National Endowment for the Arts.