F.I.L.M. Series Presents First Comes Love May 5
---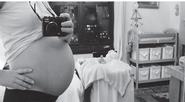 The Hamilton College F.I.L.M. (Forum on Image and Language in Motion) series will present First Comes Love (2012), by Nina Davenport, on Sunday, May 5, at 2 p.m., in the Bradford Auditorium, Kirner-Johnson Building. The event includes the screening of the film followed by a discussion with Davenport. The event is free and open to the public.
Davenport is one of the major contributors to what has come to be called "personal documentary" -- that is, documentary films that investigate the filmmaker's personal experiences. Her new film, First Comes Love, is a fascinating (and sometimes hair-raising) depiction of Davenport's struggles deciding to become a single mother and dealing with the realities of a pregnancy, a newborn son and a disapproving father.
This series is made possible by the office of the Dean of the Faculty, the Kirkland Endowment, and by the Experimental Television Center re-grant program.