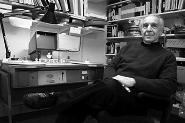 The spring F.I.L.M. (Forum on Image and Language in Motion) series resumes on Sunday, April 10, when filmmaker Alfred Guzzetti presents a selection of his old and new work. All F.I.L.M. series events are on Sunday afternoons at 2 p.m. in the Bradford Auditorium, KJ, and are free and open to the public.
Visiting Professor of Art History and F.I.L.M. series organizer Scott MacDonald calls Guzzetti "Harvard University's cine-sage." Guzzetti has worked in many forms of filmmaking, making significant contributions to personal documentary, ethnographic film and video art. He has taught several generations of accomplished filmmakers, including Darren Aronofsky, Mira Nair, Marco Williams and Joshua Oppenheimer.
In this F.I.L.M. event, Guzzetti will screen the breakthrough film Air (1971); his stunning landscape/cityscape film, Still Point (2009); Time Exposure (2012), the haiku of personal documentary; and Time Present (2013).
Coming up:
Sunday, April 17: Erin Espelie with The Lanthanide Series (2014)
Sunday, April 24: "Music and Cinema" presented by F.I.L.M. director Scott MacDonald