F.I.L.M. Series Presents Filmmaker Robb Moss with The Same River Twice
---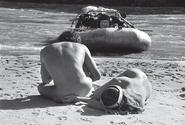 The F.I.L.M. (Forum on Image and Language in Motion) series will present The Same River Twice, on Sunday, April 14, at 2 p.m., in the Bradford Auditorium, Kirner-Johnson Building. The event includes the screening of the film followed by a discussion with filmmaker Robb Moss. It is free and open to the public.
In 1978, on a breath-taking trip in the Grand Canyon, Moss and a group of free-spirited friends and lovers took a month-long trip down the Colorado River. Cutting between footage of their youthful, often naked, unscheduled lives and the complex realities of their adulthood today, the film creates a compelling portrait of cultural metamorphosis. From running rapids to running for mayor, The Same River Twice is a story of change, choices, and of finding one's place in the world.
Moss is mentor to dozens of successful filmmakers, creative advisor for the Sundance Institute Documentary Lab, and senior lecturer on filmmaking at Harvard.
An added attraction on April 14 will be the screening of Alfred Guzzetti's new high-definition video, Time Exposure (2012), the haiku of personal documentary.