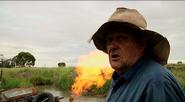 Hamilton's F.I.L.M. series will present Gasland II, directed by Josh Fox, on Sunday, Oct. 12, at 2 p.m., in the Kirner-Johnson Building's Bradford Auditorium. Fox will be present and will talk about his film following the screening. The event is free and open to the public.
Fox's first film, Gasland, became well-known for its scene of a home-owner lighting his water spigot on fire. A political-activist, Fox played a role in building the resistance to hydraulic fracturing via Gasland, which was nominated for an Academy Award. He continues to update his concern about the environmental impacts of fracking.
The expansion of the shale gas industry in the wake of the G. W. Bush administration's deregulation of oil and President Obama's confirmation of President Bush's claim that shale gas extraction will make the United States energy independent has made fracking the most crucial environmental issue facing New York State. Gasland II is one man's understanding of the various reasons why he believes New York State should not permit fracking.
This series is made possible by the office of the Dean of the Faculty, by the generous support of the Kirkland Endowment, and by the Experimental Television Center re-grant program.
F.I.L.M. events are curated by Visiting Professor of Art History Scott MacDonald.