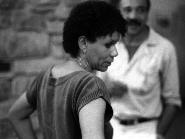 The spring F.I.L.M. (Forum on Image and Language in Motion) series continues on Sunday, Feb. 28, with the screening of Losing Ground (1982), directed by Kathleen Collins and starring Seret Scott, Bill Gunn and Duane Jones. All F.I.L.M. series events are on Sunday afternoons at 2 p.m. in the Bradford Auditorium in the Kirner-Johnson Building and are free and open to the public. The theme of the spring series is "In Focus: African-Americans in Film: Rarely Screened Landmarks."
Kathleen Collins was a film professor at City College of New York. Her one feature, Losing Ground, is about a middle-class couple – Sarah (Seret Scott), a young professor of philosophy writing a treatise on aesthetics, and her husband, Victor (Bill Gunn), an older artist who has just sold a painting to a major museum. The couple decides to spend the summer in a village in upstate New York, where Victor becomes fascinated by the landscape, the light, and the Puerto Rican women who live there.
Richard Brody, a film critic for The New Yorker, said Losing Ground "is a nearly lost masterwork…. Had it screened widely in its time, it would have marked film history."
Coming up:
Sunday, March 6: Tongues Untied (1989), directed by Marlon Riggs.
Sunday, April 10: Alfred Guzzetti presents old and new work.
Sunday, April 17: Erin Espelie with The Lanthanide Series (2014).
Sunday, April 24: "Music and Cinema" presented by F.I.L.M. director Scott MacDonald.