F.I.L.M. Series Presents "The Field of Enchantment"
---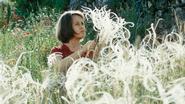 French directors Claude Nuridsany and Marie Pérennou, considered by many to be the best nature filmmakers in the world, will present their most recent work, "The Field of Enchantment," on Sunday, Nov. 10, at 2 p.m., in the Kirner-Johnson building's Bradford Auditorium. The program is part of the college's F.I.L.M. (Forum on Image and Language in Motion) series and includes the screening as well as a discussion with the directors. Presented in partnership with Glimmerglass Film Days, Cooperstown, N.Y., it is free and open to the public.
Among the most accomplished nature filmmakers in all of film history, Nuridsany and Pérennou brought the nature film back into first-run theaters with their remarkable "Microcosmos" in 1996. They work for years on each of their films, designing ways of filming nature in-close so that the life forms they record have the stature of real characters, living in a strange and fabulous environment.
Nuridsany and Pérennou are making a rare visit to the USA, and their first visit to central New York, to present their newest film, half-narrative and half nature-film – they call it a "natural fiction" – about a young boy's discovery of the beauty and magic of the natural world.