F.I.L.M. Series to Screen The Windmill Movie
---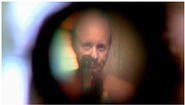 Filmmaker Alexander Olch will present The Windmill Movie on Sunday, Nov. 14, at 2 p.m., in the Kirner-Johnson Building's Bradford Auditorium. The screening is part of the fall F.I.L.M. (Forum for Images and Language in Motion) series and is free and open to the public.
When he died in 2001, all that remained of filmmaker Richard P. Rogers' attempt to make his autobiography were 200 hours of footage, dusty boxes of film, a broken editing computer and several accomplished films. Then his student and protégé, Alexander Olch, began making a movie out of the pieces. Stepping into his teacher's shoes and working with Rogers' friend Wally Shawn and Rogers' wife, acclaimed photographer Susan Meiselas, Olch made the film that Rogers didn't make. The result is autobiography and biography, documentary and fiction—and a deeply engaging film about a filmmaker and filmmaking. The Windmill Movie was produced by David Grubin '65 and premiered at the New York Film Festival in 2008.
Alexander Olch began directing Super-8 films in the fourth grade. By the tenth grade, his short Soaked (1992) was a finalist at the New York National High School Film Festival. His No Vladimir (2000), produced by Chantal Akerman and Ross McElwee at Harvard University, was named one of the top 10 student films in the country by the Independent Film Project, was a BBC World Film Festival finalist, and played regularly on Bravo and the Independent Film Channel until 2004.