F.I.L.M. Series to Screen Works of "Movie Magician"
---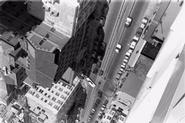 Filmmaker Ernie Gehr will be on hand when the F.I.L.M. (Forum on Image and Language in Motion) series presents four of his films on Sunday, Oct. 23, in the Bradford Auditorium, Kirner-Johnson Building. The screenings, organized by Professor Scott MacDonald, are free and open to the public.
At 2 p.m., in a program titled "Which Way is Up!?," Gehr will present Shift (1974), Side/Walk/Shuttle (1991) and This Side of Paradise (1991) – three films that question our presumption that the bottom of the motion picture frame is down and the top of the frame, up.
At 7 p.m., Waterfront Follies (2009), Gehr's film documenting the sights and sounds of three sunsets along the Brooklyn waterfront, will be screened.
One of modern cinema's consummate magicians, Gehr has spent most of his adult life making films that cinematically confront the formal and visual conventions of popular movies and popular image-making in general.