Fabulous Fall Fest
---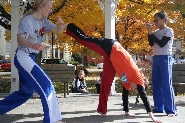 Take an October afternoon of sunny skies and seasonable temperatures, toss in scores of activities, food and entertainment, and combine an enthusiastic group of Hamilton students with local families, and the result is a very successful Fall Fest 2009.

The eighth annual Fall Fest, organized by the Social Traditions Committee of the Hamilton College Student Assembly, drew scores of local families to the Village Green on Oct. 25. Activities included face painting, cookie decorating, a demonstration by the Capoeira group, a performance by Special K, and plenty of cider, donuts and chili.

Fall Fest is an initiative that was started in 2002 by the Hamilton Class of 2005 to improve town-gown relations by uniting the Hamilton and Clinton communities for an afternoon of food, fun, and entertainment. Each year, campus organizations and societies come together to coordinate a wide array of games and activities for children, ranging from athletic demonstrations.