Faculty Participate in Quantitative Reasoning Workshop
---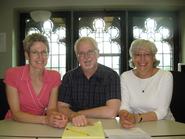 Twenty-one Hamilton faculty members, representing 14 different departments ranging from chemistry to comparative literature, attended a workshop on Incorporating Quantitative Reasoning Across the Curriculum on June 6-7 at Hamilton.
Led by Dr. Corri Taylor, president of the National Numeracy Network and director of the Quantitative Reasoning Program at Wellesley College, the program focused on how basic quantitative tools can be used in a wide array of fields to enhance the construction, communication and evaluation of arguments.
Taylor advocated for developing quantitative reasoning skills as a broad intellectual approach to issues in academic, professional and civic life; that is, a habit of mind rather than a specific set of skills learned in and confined to a math classroom. The workshop was organized by Mellon Curricular Leader for QSR Sally Cockburn, QSR Advisory Committee Chair Tim Kelly and Director of the QSR Center Mary O'Neill. They will continue to work with the faculty in the fall to support the college's new QSR Requirement, which went into effect with the class of 2014.