Fall 2011 F.I.L.M. Series Begins Sept. 11
---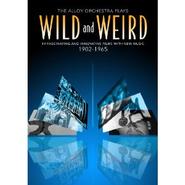 The fall F.I.L.M. (Forum for Image and Languages in Motion) series lineup has been announced. Programs are scheduled for Sunday afternoons at 2 p.m. in the Bradford Auditorium in the Kirner-Johnson Building. Exceptions will be Waterfront Follies on Oct. 23, and Twenty Cigarettes on Dec. 4, both of which will be shown at 7 p.m. Organizer and Hamilton Visiting Professor Scott MacDonald has directed the film series for more than 20 years. All events are free and open to the public.
Listed below are the programs in the fall 2011 series.
Sunday, Sept. 11: The Alloy Orchestra with "Wild and Weird"
Called "the best in the world at accompanying silent film" by Roger Ebert, the Alloy trio—Terry Donahue (accordion, musical saw, junk, vocals), Roger Miller (keyboards), and Ken Winokur (clarinet and junk percussion)—return to Hamilton to accompany a selection of early silent films by Edwin S. Porter, Hans Richter, Ferdinand Zecca, Winsor McCay, Ladislas Starevitch, Robert Florey and others.

Sunday, Sept. 18: Véréna Paravel presents 7 Queens (2008) and Foreign Parts (2010)
After earning her Ph.D. in France, Véréna Paravel "divorced" conventional academic life to become a filmmaker. Her first film, 7 Queens, documents everyone and everything she came in contact with under the 12-mile elevated train in Flushing, N.Y.
In Foreign Parts, Paravel and co-filmmaker J. P. Sniadecki provide an intimate view into a hidden enclave in the shadow of Citi Field (the New York Mets' stadium) in the Willets Point neighborhood of Queens. Slated for destruction by urban development, the area houses an unusual and endangered community where auto wrecks, refuse and recycling form a thriving commerce.

Sunday, Sept. 25: Andy Warhol's Screen Tests
Best known as a painter and graphic artist, for a time Andy Warhol was also a prolific filmmaker with a provocative approach and a distinctive style. Included in Warhol's filmography are 472 Screen Tests, portraits of the Warhol superstars and the movers and shakers in the New York cultural scene of the 1960s.
F.I.L.M. director Scott MacDonald will present a selection of the Screen Tests including those of Barbara Rose, Lou Reed, Edie Sedgwick, John Ashbery, Lou Reed, Jonas Mekas, Paul Morrissey, Paul America, Susan Sontag and Jack Smith. Though Warhol's films are legendarily "boring," many of them are much more than that.

Sunday, Oct. 9: Matthew Porterfield presents Putty Hill (2010)
"I was raised in a Baltimore suburb wild with unkempt hedges, disheveled lawns and porches, yards full of car parts and swimming pools and a church or a bar on every corner. This neighborhood, located just inside the city line, is the inspiration for much of my work and sets the scene for Putty Hill"—Matthew Porterfield.
Putty Hill premièred at the Berlin Film Festival and was called "extraordinary" by Richard Brody of The New Yorker.

Sunday, Oct. 23 at 2 p.m.: Ernie Gehr presents "Which Way Is Up!?"
One of modern cinema's consummate magicians, Ernie Gehr has spent most of his adult life making films that cinematically confront the formal and visual conventions of popular movies and popular image-making in general. Gehr will be on hand to present Shift (1974), Side/Walk/Shuttle (1991) and This Side of Paradise (1991) – three films that question our presumption that the bottom of the motion picture frame is down and the top of the frame, up.

Sunday, Oct. 23 at 7 p.m.: Ernie Gehr presents Waterfront Follies (2009)
Shot along the Brooklyn waterfront, videographer Ernie Gehr's Waterfront Follies is an exploration of urban spaces and the anxieties of cinematic representations.
"I don't always succeed, but I'm interested in a work that's like a…playground where there is no supervision, a place where you can get lost, discover your own movie if you wish, your own pleasures"—Ernie Gehr.

Sunday, Oct. 30: Maya Deren, accompanied by cellist Kristin Miller
Maya Deren is generally considered the mother of American avant-garde cinema because of the films she made and the passion with which she fought for them. Cellist Kristin Miller will accompany Deren's best-known film, Meshes of the Afternoon (1943, co-made with Alexander Hammid), along with At Land (1944) and Ritual in Transfigured Time (1946). Deren's belief that Hollywood has been "a major obstacle to the definition and development of motion pictures as a creative fine-art form" led her to explore alternative forms of expression.
Named 2004 Female Artist of the Year by Jam Magazine, Kristin Miller will accompany Deren's films with her own compositions. Jam Magazine's William A. Huffman called Miller "a master of her instrument," saying that she "knows how to get what she wants from it, musically and emotionally."

Sunday, Nov. 6: Buddhist Cinema: Recent videos, presented by Pawel Wojtasik
"I'm sometimes asked why I choose the subjects I do. I use art, and film, as a tool to discover ways in which I can go from fear to freedom-from-fear. Each one of my pieces is like a small journey from a state of fear through an experience of accessing and encountering some terrifying reality which speaks ultimately of death, and becoming intimate with it, until I see that there is something beyond death. Having a kind of intimacy with death allows you to be free of it"—Pawel Wojtasik.
Wojtasik will present Dark Sun Squeeze (2003), Naked (2005), Nascentes Morimur (2009), Pigs (2010), The Aquarium (2006) and At the Still Point (2010).

Sunday, Nov. 13: Chuck Workman presents Precious Images (1986) and Visionaries (2010)
For the past 25 years Chuck Workman has been a master editor composing the montages that evoke various dimensions of movie history for the annual Academy Awards show. He also produces and directs independent documentaries and in 2010 he completed Visionaries, a feature film focusing on Jonas Mekas and the (mostly American) film avant-garde, with appearances by Kenneth Anger, Su Friedrich, David Lynch, Peter Kubelka, Stan Brakhage and Robert Downey, Sr.
Precious Images, Workman's Academy-Award-winning short, will also be screened.

Sunday, Dec. 4 at 2 p.m.: James Benning presents Small Roads (2011)
During his 40-plus years of filmmaking, James Benning has become the foremost film artist of the American landscape and one of the most influential of all American filmmakers here and abroad—and a regular visitor to Hamilton College. His recent shift to high definition digital video has allowed him to be even more productive. He continues to explore his native land with intelligence and ingenuity in his newest feature, Small Roads.

Sunday, Dec. 4 at 7 p.m.: James Benning presents Twenty Cigarettes (2011)
For a couple of generations, smoking – especially smoking cigarettes – was ubiquitous in commercial movies. Smoking was often the very emblem of thought: when characters in Hollywood movies were thinking, they smoked. In Twenty Cigarettes, James Benning pays homage to cinematic smoking.