Fasting and Feasting Attracts 170 Students
---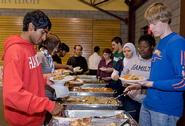 Approximately 170 students, Muslim and non-Muslim, participated in the annual "fast-a-thon," sponsored by the Muslim Students Association on campus on Sept. 8. The day of fasting during the month of Ramadan, ending on Sept. 9, brought students of several faiths together. One of the reasons for holding the annual event is to offer non-Muslim students the opportunity to experience what Muslims practice for an entire month.

The group of students convened at sundown to break their fast. Bon Apetit, the college's food service provider, donated $5 for each participating student to a Pakistan flood relief fund. Local Indian restaurant, Minar, contributed the food for the evening meal.

At lunch, College Chaplain Jeff McArn conducted a program titled "Take Your Mind off NOT Eating Lunch - "An Informal Discussion/ Meditation on Fasting" for participants.

Conducted from sunrise to sunset, the fast entailed restricting oneself from consuming any food or drink, chewing gum, smoking or participating in sexual activities.