Female Egyptian Pharaohs are Topic of Archaeologists' Lecture
---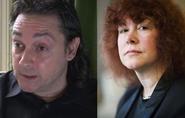 Joann Fletcher and Stephen Buckley, research fellows at the University of York, will present the Winslow Lecture at Hamilton College on Thursday, March 29, at 4:10 p.m., in the Taylor Science Center's Kennedy Auditorium. They will discuss the cultural significance and influences of the lesser-known female pharaohs in ancient Egypt. The lecture is sponsored by the Classics Department and is free and open to the public.
Fletcher and Buckley were recently part of a team of scientists who attempted to mummify a specially-donated body in order to understand Ancient Egyptian mummification techniques.
Fletcher has undertaken excavation work in Egypt, Yemen and the United Kingdom and has examined mummified remains both on sight and in collections around the world. She has worked extensively with museums in the U.K. and around Europe and currently serves as Egyptologist for Harrogate Museums and Arts. Fletcher makes regular media appearances and her many publications include Cleopatra the Great (2008), The Search for Nefertiti (2004), The Egyptian Book of Living and Dying (2002), Alexander the Great: Son of the Gods (2001) and Egypt's Sun King: Amenhotep III (2000).
Buckley's current research at York is on the materials used in mummification and in burials in the ancient Near East. He has worked since 1993 as archaeological chemist for excavations in the Valley of the Kings and has also investigated two bog bodies in Ireland and mummified Roman, Yemeni and Iranian remains. Together with Fletcher, Buckley curated the "Treasures of Ancient Egypt" exhibition at the Harrogate Museum between 2002 and 2004.