Field hockey breezes to first win of 2011
---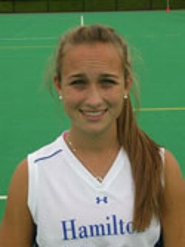 Nikki Haskins '14 scored one goal and added one assist, and Victoria Trentini '15 stopped all three shots she faced to lead Hamilton College to a 4-0 non-conference win against Utica College at Hamilton's Campus Road Athletic Field on Sept. 14.

Haskins leads the Continentals with five points this year. Trentini posted her first shutout in just her second game at Hamilton. Catie Torcivia '12, Mary Lancaster '12 and Caroline Clarke '14 also scored. Erin McNally '12 was credited with her 21st career assist.

Monica Storms '12 made seven saves for Utica. The Continentals enjoyed a 27-3 shot advantage, and were awarded 14 penalty corners to four for the Pioneers.

Torcivia gave Hamilton an early 1-0 lead just 3:52 into the first half. Sarah Flisnik '12 took two shots following a penalty corner that was entered by Torcivia. The second one was saved by Storms, and Torcivia pounced on the rebound near the left post for her 12th career goal.

Haskins made the score 2-0 with 7:05 left in the first half. McNally hammered a shot towards the right side of the goal off a penalty corner. Haskins was standing near the post and tipped the ball into the back of the cage for her second goal this year.

Clarke's second career goal gave the Continentals a 3-0 cushion with 11:58 remaining in the second half. She collected a rebound after Storms turned away a shot by McNally, and poked the ball across the goal line from the right side.

Lancaster's 16th career goal completed the scoring with 4:57 left. Haskins carried the ball into the circle and passed off to Lancaster, who was flying in from the left wing. Lancaster swept the ball past a sprawling Storms for the fourth and final goal.

Utica (2-2 overall) still leads the all-time series 6-4, but Hamilton has won the last three meetings. The Continentals have outscored the Pioneers 11-0 during that span.

Hamilton (1-1) hosts Connecticut College for a NESCAC contest on Saturday, Sept. 17. Utica travels to Stevens Institute of Technology on Saturday in Empire 8 conference play.