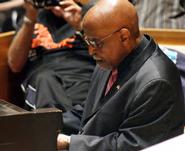 The National Museum of American History has designated April as Jazz Appreciation Month (JAM). So in the spirit of JAM, Hamilton's Fillius Jazz Archive is featuring one artist daily on the news site along with that individual's archived audio interview and transcript. Today's featured artist is Junior Mance.
Pianist Junior Mance was born in Chicago in 1928. He studied at Roosevelt College and gained early experience with Gene Ammons and Lester Young. During his military service, he played with the Adderley brothers, later joining their quintet in 1956.
He has recorded and toured with Dizzy Gillespie, Dinah Washington and Joe Williams H'88 and currently leads his own trio. The strong Blues influence in his playing makes him immediately recognizable and he has composed a number of classic jazz tunes, including "Harlem Lullaby."
Junior Mance (Part I) was interviewed in New York City on July 27, 1995, by Monk Rowe, the Joe Williams Director of the Jazz Archive, and Professor of Music Michael "Doc" Woods.
For a recorded interview with Mance or a transcript of the interview, click here and make your choice in the column on the right.