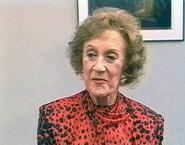 The National Museum of American History has designated April as Jazz Appreciation Month (JAM). So in the spirit of JAM, Hamilton's Fillius Jazz Archive is featuring one artist daily on the news site along with that individual's archived audio interview. Today's featured artist is Marian McPartland H'97.
Marian McPartland leads a dual career as a jazz pianist and radio personality. She was born in Windsor, England, on March 20, 1920. Her career as a classically-trained pianist was sidetracked by her love of jazz and popular music and she left the Guildhall School of Music to perform in the world of vaudeville.
During WW II, she played for British and American troops in Europe and met her future husband, cornetist Jimmy McPartland. She moved to the U.S. with Jimmy in 1946 and gradually overcame resistance to her nationality and sex by establishing her own jazz trio at The Hickory House in New York City.
McPartland has performed all over the world with various ensembles and recorded numerous albums for Concord, Halcyon and Savoy Records. Her nationally syndicated radio show "Piano Jazz" is in its 18th year, and she has interviewed and played with virtually every important jazz musician on the show.
She is the author of All in Good Time and has written several well-known compositions. She continues to record and perform, often in educational settings, where she has been instrumental in the development of jazz education.
McPartland was interviewed by Monk Rowe, the Joe Williams Director of the Jazz Archive, before a concert in Utica, N.Y., on April 26, 1997.
To listen to the audio recording of the interview with McPartland, click here and choose "audio" in the column on the right.