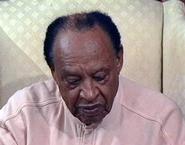 The National Museum of American History has designated April as Jazz Appreciation Month (JAM). So in the spirit of JAM, Hamilton's Fillius Jazz Archive is featuring one artist daily on the news site along with that individual's archived audio interview. Today's featured artist is Lionel Hampton.
Lionel Hampton's huge contribution to jazz can scarcely be measured. As a band leader he was responsible for some of the era's most treasured recordings and his band helped to launch the careers of many future stars.
While he first excelled on the drums, it was the vibraphone that will forever be associated with Hampton. He first played it with Louis Armstrong, when neither he nor Armstrong really knew what the instrument was. Hampton's vibraphone playing defined the essence of swing and his enthusiasm on stage was hard to match.
Born in Louisville, Ky., in 1913, he took drum lessons from a Franciscan nun and found his first important jazz experience with Les Hite's band in 1930. The Hite group was chosen to back up Louis Armstrong on his California tour. The recording of "Memories of You" with Armstrong in 1930 started Hampton's career as a vibraphonist.
Hampton went on to greater fame with The Benny Goodman Big Band and Quartet and his own dynamic ensemble. Virtually all of the major soloists in jazz have played with "Hamp."
Hampton was interviewed by Monk Rowe, the Joe Williams Director of the Jazz Archive, on Oct. 18, 1995, in New York City.
To listen to the audio recording of the interview with Hampton, click here and choose "audio" in the column on the right.