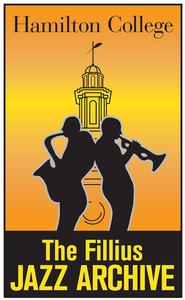 The National Museum of American History has designated April as Jazz Appreciation Month (JAM). So in the spirit of JAM, Hamilton's Fillius Jazz Archive is featuring one artist daily on the news site along with that individual's archived audio interview and transcript. Today's featured artist is Clark Terry H'95.
Clark Terry was born in St. Louis in 1920 and played briefly with Charlie Barnet and Eddie Vinson before joining Count Basie in 1948. From 1951-59 he traveled with the Duke Ellington Orchestra and toured Europe with the Quincy Jones production of "Free & Easy." Terry was also a member of the NBC Tonight Show Orchestra in New York City. In 1995-96 he celebrated his 75th birthday with an extensive tour of the world.
Terry's distinctive trumpet and vocal style along with his engaging personality have made him an international star in the world of jazz. He has been a major influence on a generation of trumpet artists and has been in the forefront of promoting jazz education.
Joe Williams H'88 interviewed Terry on May 19, 1995, in Clinton, N.Y. Professor of Music Michael "Doc" Woods also participated in the interview.
To listen to the audio recording of the interview with Terry, click here and choose "audio" in the column on the right.