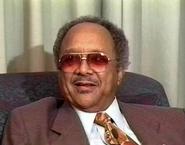 The National Museum of American History has designated April as Jazz Appreciation Month (JAM). So in the spirit of JAM, Hamilton's Fillius Jazz Archive is featuring one or more jazz artists on the news site each day along with the archived audio interview. Today's featured artists are Snooky Young and Gerald Wilson.

Snooky Young was born in Dayton, Ohio, in 1919, and decided early on that his life would be in music. He was in demand as a lead trumpeter since his start with Jimmie Lunceford in 1939.
His distinctive trumpet was employed by Count Basie, Lionel Hampton and Gerald Wilson. He was a founding member of the Thad Jones - Mel Lewis Orchestra. When NBC was looking for a lead trumpet for the Tonight Show Orchestra, Young got the call. He recorded frequently with numerous bands and as a leader of his own small group.
Gerald Wilson was also born in 1919, in Shelby, Miss. He played trumpet with Detroit's Plantation Club Orchestra in 1936, leading to a three-year engagement with Jimmie Lunceford. He performed in Los Angeles with Benny Carter and Les Hite, and later spent time in the Army where he was able to continue his music with fellow soldiers Clark Terry, Ernie Royal and Willie Smith.
Wilson's composing and arranging skills began to gain attention and from 1944-47 he led his first big band, with Snooky Young and Melba Liston as notable members. Count Basie employed him as an arranger and trumpet man from 1948-49.
In the 1950s and 60s, Wilson became one of the most sought after arrangers in the music business, writing charts for Ella Fitzgerald, Nancy Wilson and numerous other artists. He has worked in West Coast studios as a composer and actor and has produced numerous recordings with his own big band. Wilson has also found time to teach at UCLA. He continues to compose new music.
Snooky Young and Gerald Wilson were interviewed by Joe Williams Director of the Jazz Archive Monk Rowe on Sept. 3, 1995, in Los Angeles.
To listen to the audio recording of the interview with Young and Wilson, click here and choose "audio" in the column on the right.