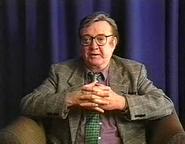 The National Museum of American History has designated April as Jazz Appreciation Month (JAM). So in the spirit of JAM, Hamilton's Fillius Jazz Archive is featuring one artist daily on the news site along with that individual's archived audio interview. Today's featured artist is Steve Allen.
Steve Allen was born in New York City on Dec. 16, 1921. He played piano from an early age and traveled extensively with his parents who worked the vaudeville circuit. His career encompassed every aspect of show business, from radio and television, to movies and live performances.
Allen was a prolific song writer, lyricist and author and managed Meadowlane Enterprises with his wife, Jayne Meadows. In 1997, three years before his death, he released "Steve Allen's 75th Birthday Celebration."
Monk Rowe, the Joe Williams Director of the Jazz Archive, interviewed Allen on Feb. 15, 1999, in Los Angeles.
To listen to the audio recording of the interview, click here and choose "audio" in the column on the right.