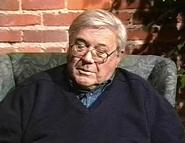 The National Museum of American History has designated April as Jazz Appreciation Month (JAM). So in the spirit of JAM, Hamilton's Fillius Jazz Archive is featuring one artist daily on the news site along with that individual's archived audio interview. Today's featured artist is Milton F. Fillius, Jr. '44, GP '02, H'96, founder of the Jazz Archive.
Milt Fillius was born in Rochester, N.Y., on November 17, 1922. As a youth he developed a love for swing music and played drums in a number of bands with his high school friends.
He was a member of the Class of 1944 – one of the "crazy mixed up years" when Hamilton men served their country during World War II.
He achieved great success in the world of business and took an active role in numerous civic and charitable organizations. Throughout his life, Fillius was an ardent fan and patron of jazz, and it was his vision that made Hamilton's Jazz Archive a reality.
At Fallcoming 2013, in recognition of their devotion and generosity to the world of jazz and to Hamilton College, the Jazz Archive was dedicated in honor of Milton and Nelma Fillius.
Fillius was interviewed by Monk Rowe, the Joe Williams Director of the Jazz Archive, on May 18, 2000, in Clinton, N.Y.
To listen to the audio recording of the interview, click here and choose "audio" in the column on the right.