Fillius Jazz Archive Celebrates Jazz Month
---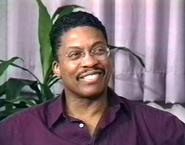 The National Museum of American History has designated April as Jazz Appreciation Month (JAM). So in the spirit of JAM, Hamilton's Fillius Jazz Archive is featuring one artist daily on the news site along with that individual's archived audio interview. Today, on his birthday, the featured artist is Herbie Hancock.

Pianist, composer and synthesist Herbie Hancock has had a profound influence on American music since the early 1960's. As a composer, he has written numerous songs that have become part of the standard repertoire of jazz, including "Maiden Voyage" and "Watermelon Man."
His piano playing has been part of some of the most memorable recordings in the last thirty years, including those with the Miles Davis Quintet and duets with Chic Corea as well as his own small group recordings. As a synthesist, Herbie has been responsible for combining jazz and rock into his own distinctive style which has enabled jazz to cross into the coveted exposure usually reserved for the three minute pop song. He continues to be an active and ever-evolving force on the music scene.
Hancock was interviewed by Professor of Music Michael "Doc" Woods on Nov. 18, 1995, in New York City.
To listen to the audio recording of the interview with Hancock, click here and choose "audio" in the column on the right.