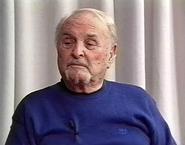 The National Museum of American History has designated April as Jazz Appreciation Month (JAM). So in the spirit of JAM, Hamilton's Fillius Jazz Archive is featuring one artist daily on the news site along with that individual's archived audio interview. Today's featured artist is Chubby Jackson.

Bassist Greig "Chubby" Jackson was one of the most dynamic performers in jazz history. Born in New York in 1918, he started playing bass professionally in 1935.
He was the spark plug behind the driving rhythm section in the first great Woody Herman band. He brought Ralph Burns and Neil Hefti to the attention of Herman, who said of Chubby, "what an immense influence he had on us. And what enthusiasm!"
Jackson performed and recorded with Charlie Barnet, Conte Candoli, Terry Gibbs, Gerry Mulligan and many others. He was recognized as the major bassist of 1945 by Down Beat and was named a Gold Award winner by Esquire magazine in 1947.
His talents also were employed for a successful Chicago children's television show and he conducted clinics and workshops on jazz with his son, drummer Duffy Jackson.
Jackson was interviewed by Monk Rowe, the Joe Williams Director of the Jazz Archive, on Feb. 14, 1998, in San Diego.

To listen to the audio recording of the interview, click here and choose "audio" in the column on the right.