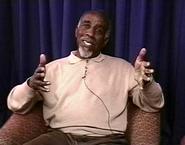 The National Museum of American History has designated April as Jazz Appreciation Month (JAM). So in the spirit of JAM, Hamilton's Fillius Jazz Archive is featuring one artist daily on the news site along with that individual's archived audio interview. Today's featured artist is Eddie Locke.
Eddie Locke was born in Detroit on Feb. 8, 1930. He traveled to New York City in 1954 as part of the duo Bop and Locke and stayed to become part of the active jazz scene.
He was the drummer of choice for some of the most celebrated jazz artists, including long associations with Roy Eldridge and Coleman Hawkins.
Locke was interviewed by Monk Rowe, the Joe Williams Director of the Jazz Archive, on Jan. 13, 2001, in New York City.

To listen to the audio recording of the interview, click here and choose "audio" in the column on the right.