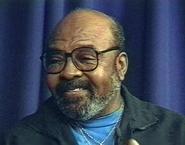 The National Museum of American History has designated April as Jazz Appreciation Month (JAM). So in the spirit of JAM, Hamilton's Fillius Jazz Archive is featuring one artist daily on the news site along with that individual's archived audio interview. Today's featured artist is James Moody.
James Moody's musical skills and engaging personality made him one of the great stars of the jazz world. He was born in Savannah, Ga., on May 26, 1925, and was raised in Newark, N.J., and Reading, Pa.
He took up the saxophone at age 16 and gained valuable playing experience in the Air Force, where he met and played with Dizzy Gillespie. Moody became a member of Dizzy's Be Bop Orchestra and he enjoyed a long relationship with the trumpet master. His 1949 recording of "Moody's Mood for Love" became a classic and he was covered by vocalists Eddie Jefferson and King Pleasure.
Moody was one of the premier jazz flautists and most of his solo albums included a song featuring his unique vocal style. He has been honored by the Newark, N.J., Jamaica and International Jazz Hall of Fame organizations.
Moody was interviewed by Monk Rowe, the Joe Williams Director of the Jazz Archive, on Feb. 15, 1998, in San Diego.
To listen to the audio recording of the interview, click here and choose "audio" in the column on the right.