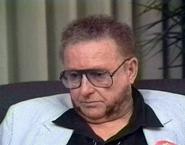 The National Museum of American History has designated April as Jazz Appreciation Month (JAM). So in the spirit of JAM, Hamilton's Fillius Jazz Archive is featuring one artist daily on the news site along with that individual's archived audio interview. Today's featured artist is Ed Shaughnessy.
Ed Shaughnessy was among the most familiar drummers in the country. His dynamic playing and vivacious personality sparked the bands of Jack Teagarden, Benny Goodman, Duke Ellington and George Shearing.
A native of Jersey City, Shaughnessy's first playing experience was in the clubs of the flourishing jazz scene on New York's 52nd Street. In the 50's he was kept busy in the studios and as a staff drummer with CBS television.
As the drummer for The Tonight Show, he became a familiar face with nationwide audiences. He moved to Los Angeles with the show in 1972. When the Basie Band was in need of a drummer for recording, the Count would call on Shaughnessy, referring to him as his "Secret Weapon."
He has recorded with jazz greats Oliver Nelson, Quincy Jones, Zoot Sims and Wes Montgomery.
Shaughnessy was interviewed by Monk Rowe, the Joe Williams Director of the Jazz Archive, on Sept. 1, 1995, in Los Angeles, and again on April 25, 1998, in Clinton, N.Y.

To listen to the audio recording of the first interview, click here. For the second interview, click here. Choose "audio" in the column on the right.