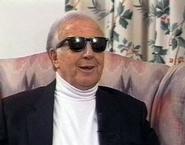 The National Museum of American History has designated April as Jazz Appreciation Month (JAM). So in the spirit of JAM, Hamilton's Fillius Jazz Archive is featuring one artist daily on the news site along with that individual's archived audio interview. Today's featured artist is George Shearing H'94.

Pianist George Shearing was born in England on Aug. 13, 1919. He received his first musical training at the Linden Lodge School for the Blind and his lack of sight proved no hindrance to an eventual career as a jazz pianist. He was recording by 1936 and quickly became a household name in England, being voted the top British pianist by Melody Maker from 1939-46.
His desire for a larger audience brought him to the United States in 1946 and his career blossomed. He performed and recorded solo, as an accompanist to jazz vocalists, with symphony orchestras, and as a leader of big bands.
During the 1950's, Shearing's combination of vibes, guitar and piano made his quintet the top jazz ensemble in the country. He was also the composer of a number of jazz classics, including "Lullaby of Birdland."
Shearing was interviewed by Joe Williams H'88 on March 8, 1996, in New York City.
To listen to the audio recording of the interview, click here and choose "audio" in the column on the right.