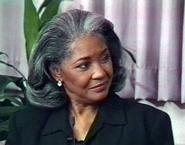 The National Museum of American History has designated April as Jazz Appreciation Month (JAM). So in the spirit of JAM, Hamilton's Fillius Jazz Archive is featuring one artist daily on the news site along with that individual's archived audio interview. Today's featured artist is Nancy Wilson.

Nancy Wilson's long and illustrious career has encompassed both the jazz and popular music fields. She was born in Chillicothe, Ohio, in 1937 and appeared in local television shows and clubs while still in high school, later gaining performing experience with the Rusty Bryant band.
In 1959, Nancy sat in with the Cannonball Adderly Quintet and her career began in earnest. She signed with Capitol Records and subsequent records with Adderly and George Shearing established her as one of the country's hottest singers.
Nancy's extensive list of recordings has embraced a wide range of styles and her accompanists have included jazz greats Chic Corea, Joe Zawinul, Hank Jones and George Shearing. She continues to tour the country and the world and remains one of America's most respected vocalists.
Wilson was interviewed in New York City on Nov. 16, 1995, by Monk Rowe, the Joe Williams Director of the Jazz Archive.

To listen to the audio recording of the interview, click here and choose "audio" in the column on the right.