Film Composer to Speak March 11
---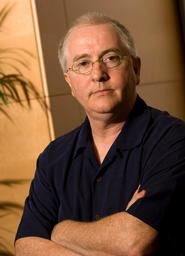 A newly-written score by Patrick Doyle will be performed by a chamber ensemble in accompaniment with a showing of the 1927 silent film It on Tuesday, March 11, at 7:30 p.m., in Wellin Hall in Schambach Center for the Performing Arts. The film will be preceded by a talk by the composer at 7 p.m. The event is free and open to the public.
Patrick Doyle, whose latest score was for Sir Kenneth Branagh's feature film Jack Ryan: Shadow Recruit (2014), is the winner of the 2013 Henry Mancini ASCAP Award. He is a classically trained, world-class film composer. Doyle is known for his work scoring such critically acclaimed films as Sense and Sensibility (1995), Gosford Park (2001), Harry Potter and the Goblet of Fire (2006), Eragon (2006), Rise of the Planet of the Apes (2011) and Brave (2012).
A longtime collaborator of actor/director Kenneth Branagh, he has scored nine of the director's films, including Much Ado About Nothing (1993), Mary Shelley's Frankenstein (1994), Hamlet (1996), Love's Labour's Lost (2000), As You Like It (2006), Sleuth (2007) and Thor (2011). Doyle has received two Oscar, two Golden Globe and two César nominations, as well as winning the Ivor Novello Award for Best Film Theme for Henry V (1989). He is currently working on Disney's Cinderella, directed by Branagh.
The film is based on IT by Elinor Glyn, directed by Clarence Badger, and stars Clara Bow, the original "It girl." The romantic comedy was selected for preservation in the National Film Registry in 2001. Doyle's score premiered in October 2013 at the Syracuse International Film Festival. The chamber ensemble will be conducted by Travis Newton.