Finding Self-Worth for Guatemalan Women
---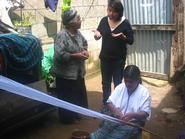 A combination of social oppression, poverty and discrimination has kept Mayan women in Guatemala from raising their voices and using their full potential. Deaf women in particular are stripped of their rights and made to believe that they have no worth. This summer, Mariela Meza '13 interviewed Guatemalan women in the highland community of Nahuala. Her research helps prove that these women can be valuable contributors to their community and that they should not be overlooked by their society. Meza's work was funded through an Emerson Summer Grant.
At least 65 percent of Guatemala's population lives below the poverty line. For Mayan women in this country, the challenges are particularly steep. Nearly half of Guatemala's population is comprised of Indigenous persons, all of whom face severe discrimination and social inequality. Mayan women rank even further down than Mayan men in terms of social equality, and they are taught to believe that there is nothing they can do to confront these injustices. Meza's research penetrated this environment of silent oppression to examine how Mayan women perceive themselves and their social standing in their community.
Meza conducted interviews with educated Mayan women, uneducated house servants, community leaders and deaf Mayan women, drawing attention to the diversity among female residents of Nahuala. She says, "Through the interviews conducted I can prove that they are capable and can be valuable members of their community and that it is just the social pressures that convince these women that they don't hold any value." During her homestay, her work was very hands-on, and she got an intimate, firsthand look at the intricate layers of social structures in Guatemala.
Meza looks forward to uncovering her findings and raising awareness for the harsh conditions that these women face. By videotaping her interviews, she was also able to capture certain visual gestures that deaf Mayan women use as part of their sign language, called Meemul Tziij. Meza believes that these signs may have an important relation to Ancient Mayan Art. Such a connection would emphasize the language's important cultural role in the Mayan community and help establish a sense of value for these women.
At Hamilton, Meza, an art history major with a Hispanic studies minor, is treasurer of the Spanish club. She also plays the violin, and enjoys Spanish poetry and Japanese art history. She looks forward to applying her taped interviews to themes in Ancient Mayan Art.
Mariela Meza is a graduate of the Emma Willard School in Troy, N.Y.