First Pitch Competition is a Hit
---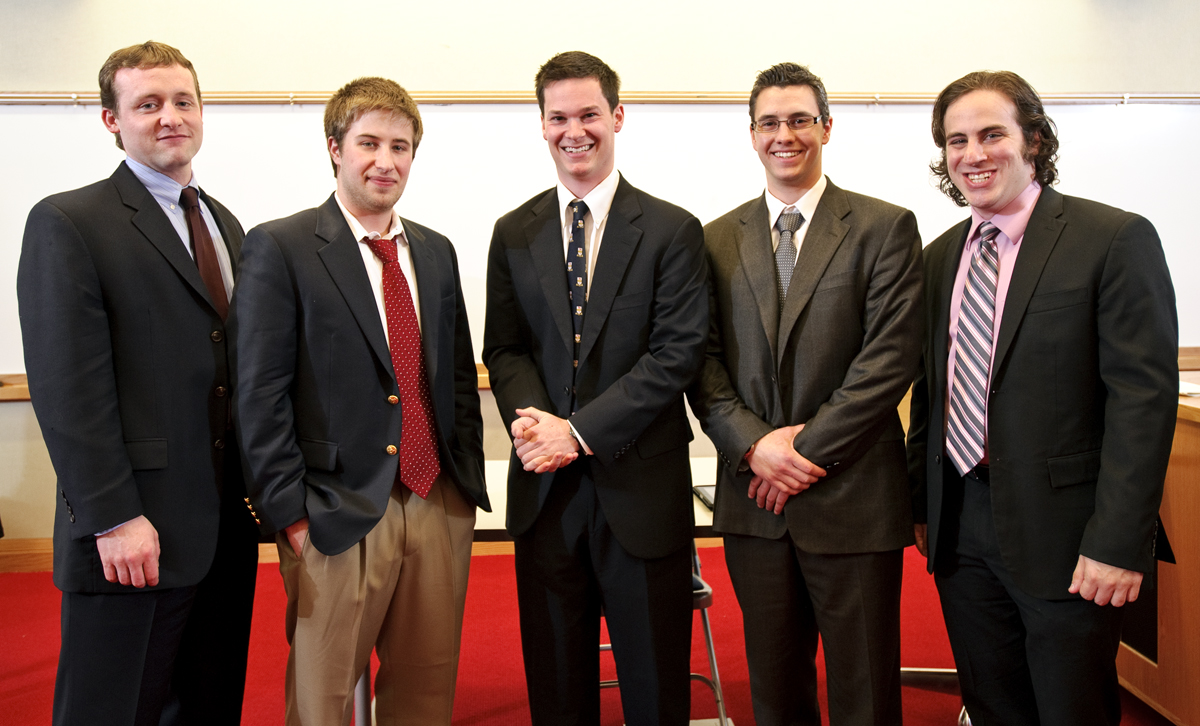 Nearly 80 Hamilton students and alumni participated on April 8-10 in the first Hamilton Pitch Competition. The event, the brainchild of successful entrepreneur and alumnus Mark Kasdorf '06, challenged competitors to pitch their best, most marketable business concept to a judging panel of entrepreneurs and venture capitalists.
The competition was open to any team that included at least one current Hamilton student or alumni who graduated within the last 10 years. The weekend kicked off with an open dinner with the judges Friday night followed by a two-hour entrepreneurship workshop led by Kasdorf; the workshop was designed to equip participants with the knowledge and tools needed to make an effective pitch.
Kasdorf laid out the basic structure of a pitch and led participants in several educational exercises. He and the other judges, (entrepreneur David Bisceglia and professional investors Michael Fawcett '66 and Hedy Foreman) also made themselves available Friday evening and all day Saturday for private mentoring sessions with participants, offering critiques of business models and suggestions for improving pitches.
The official pitch competition took place on Sunday and was well attended by Hamilton students and faculty. After hearing more than five hours of pitches, the judges chose Jerome Noel '09 as the first-place winner for his pitch for Marquee, his concept for a high-class combination microbrewery/fine-dining restaurant.
As winner, Noel won $3000 in legal services from a law firm and will have the opportunity to pitch his concept to a venture capitalist. Michael Fawcett '66 also offered to provide Noel with an introduction to the founder of Outback Steakhouse and possibly to other restaurant chain CEOs. Noel was also noted as the alumnus who traveled furthest, driving non-stop from Indianapolis.
Taking runner up positions were Axtell Arnold '06 for his Purple Lapel clothing line geared toward the disabled; Nick Scoglio '09 and partner Jason Reminick for Meditel—a web-based company offering a partnership between medical personnel and nursing home patients with limited mobility; and Nick Richards '12 for Intrashare, a secure host offering filesharing and syncing services to corporations with confidentiality concerns.
Smaller prizes were awarded to runners-up—Richards was offered a paid internship in Boston, Arnold won an iPad 2, and Scoglio and Reminick will receive free consultation services and networking from Fawcett and Foreman in order to hopefully get their business off the ground.
Kasdorf was a math major at Hamilton, but said that he would not have been surprised, during his time on the Hill, if someone had predicted that he would one day start his own company. He wanted to hold the Hamilton Pitch Competition in order to introduce the idea of entrepreneurship to Hamilton students, many of whom know little or nothing about the steps to take to turn an idea into a profitable company. In the five years since graduating, Kasdorf has started two businesses, Burning Hollow Technologies and Intrepid, and has no plans of slowing down. His goal is to become the world's first "parallel entrepreneur," an entrepreneur who starts 10 companies all at once and builds each into a million-dollar company.
Kasdorf worked closely with Associate Director of Alumni Relations LaurieAnn Russell to get the competition off the ground. With such a great response from the community in its first year, he hopes to turn the Hamilton Pitch Competition into an annual event in the future.