Food Policy Specialist Mark Winne P'00 to Speak
---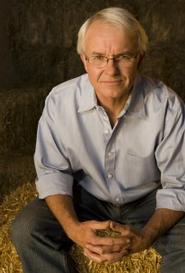 Food policy specialist and author Mark Winne P'00 will give a lecture, "Food Rebels and Guerrilla Gardeners: Finding Our Way to Food Democracy," on Wednesday, Oct. 17, at 5:30 p.m., in the Science Center's Kennedy Auditorium. Winne's appearance marks the second annual National Food Day, a nationwide celebration of local and sustainable foods.
His lecture is sponsored by the Slow Food Society, a student club committed to local and healthy eating, and is free and open to the public.
Winne graduated from Bates College and went on to earn a master's degree from Southern New Hampshire University. He is best known for his two recent books on food policy. The first, titled Closing the Food Gap, published in 2008, analyzes dietary disparity between high and low income households. His 2010 book, titled Food Rebels, Guerilla Gardeners, and Smart Cookin' Mamas, discusses the rising local and alternative food movement.

Winne served for many years as executive director of the Hartford Food System, a private non-profit agency that addresses issues of hunger and nutrition around Hartford, Conn. From 2002 to 2004, Winne served as a food and society policy fellow, supported by the W.K. Kellogg Foundation. He also held a visiting scholar position at Johns Hopkins University School of Public Health for the 2010-2011 academic year.

Winne has spearheaded numerous independent food and agriculture policy groups, including, the City of Hartford Food Policy Commission, the Connecticut Food Policy Counsel, End Hunger Connecticut! and the national Community Food Security Coalition. He organized and chaired the Working Lands Alliance, which aims to preserve Connecticut's farmland, and is founder of the Connecticut Farmland Trust. For his extensive work in food policy, Winne received the U.S. Department of Agriculture Secretary's Plow Honor Award.

At Hamilton, Winne will address how consumers can control the food they eat and therefore influence national and global food policy. He believes it is not enough to be conscious of how food choice impacts health and local markets, but consumers must actively engage in reforming the current industrial food system. Winne will highlight the recent New York City ban on large sugary drinks and the ballot initiative in California to label genetically modified foods.