Football selects 2012 team captains
---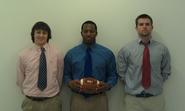 The Hamilton College football team has announced the selection of its 2012 team captains.

Jordan Eck '12 (Rye, N.Y./Rye HS), Mike MacDonald '12 (Glen Ridge, N.J./Seton Hall Preparatory School) and Camron Waugh '12 (Tulsa, Okla./Holland Hull School) were named 2012 team captains. Eck and MacDonald were captains in 2011.

Eck finished second in the NESCAC with 223.4 passing yards per game in 2011. He ranked fourth in pass efficiency and total offense.

MacDonald was named to the NESCAC all-conference second team at linebacker in 2011. He finished third in the conference with 88 tackles, and was ninth with four sacks.

Waugh was Hamilton's third-leading tackler in 2011 with 55 stops. He recorded five tackles for a loss, including one sack, and recovered a fumble.