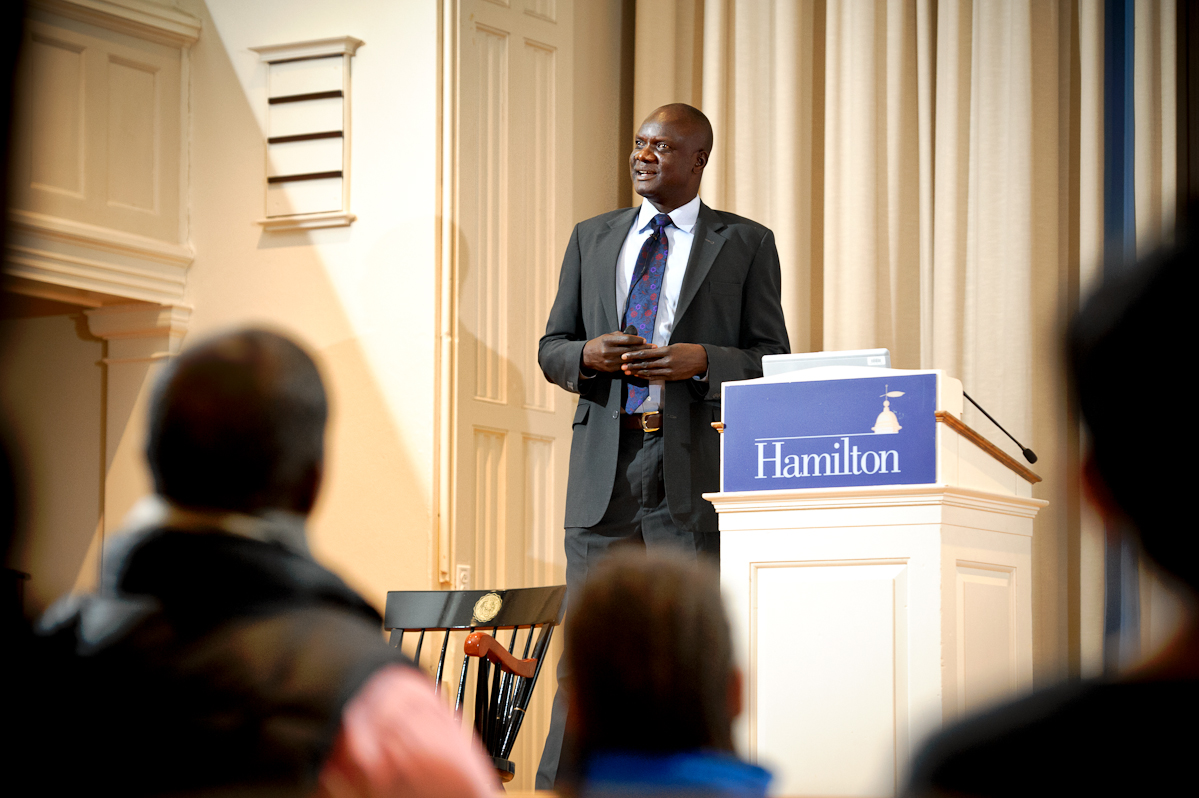 Human rights activist John Dau, a former "Lost Boy of Sudan," spoke on Feb. 3 about his life experiences and his successful career in the United States. The talk was presented by the Levitt Center Speaker Series.
Since coming to the U.S. in 2001, Dau has founded four non-profits including the Sudanese Lost Boys Foundation of Central New York and the John Dau Foundation. His memoir inspired the 2006 award-winning documentary God Grew Tired of Us. Dau called his story a "living testimony," saying, "I'm still alive and this is a story from me to you, and possibly from you to somebody else. That way it lives on."
Dau began by describing his early life growing up in a village in what is now South Sudan, then recounted the horrific attack on his home when he was 12-years-old. He escaped and fled to Ethiopia where he and thousands of other Lost Boys lived for four years until they were forced out by the Ethiopian government. He described crossing a river on the border between Sudan and Ethiopia: "You've seen on National Geographic animals crossing the river and being eaten by animals. That's what we were about to face."
They ended up at the Kakuma Refugee camp where Dau was able to attend school for the first time. "We were very happy to be getting an education. I was getting my ABCs and 123s at 17-years-old, he recalled, " but it didn't matter because we were finally learning."
Dau had some misgivings when he first learned that he and other Lost Boys would be taken to the United States. He shared some of the rumors about American life he'd heard: that restaurants existed where customers just pushed buttons for their food, that American women carried small bags with guns inside. "What was this country, with buttons for chicken and girls who kill people?" he remembered wondering.
When he arrived in Syracuse with two other Lost Boys, Dau was greeted by a church group who for three months provided them with help and acclimated them to American life. Dau remembers being overwhelmed by choices, by grocery stores, and automatic doors. After three months, he started working three jobs at a time to support himself. Though he was only getting two or three hours of sleep a night, he said, "I was so happy that I could work. I was no longer receiving, I was contributing to the system." However, he wanted to be able to help others and give back, so he went to college and founded the first of his four foundations in 2003.
Currently, he is the president of the John Dau Foundation, which he founded in 2007 to provide health care to the people of South Sudan. His clinic has served more than 150,000 people, including 10,000 mothers who gave birth there. Among the most important treatments are pre/post-natal care and feeding programs for malnourished children.
"I have been very successful in my 14 years here," Dau said. "I have a family, I have four kids, and I was able to bring my mother to the U.S. I can proudly say I am living the American Dream. I ate mud...I survived animal attacks, I walked naked. I came here with nothing but what I was wearing.
"Do not let yourself be held hostage by the things that have happened in your life," Dau urged the audience, saying he has turned his story into a positive force. "Success and struggle are a package," he said. Dau was frank when asked about PTSD, saying he believes in human resilience and the power to overcome anything. "The only things that are impossible are the things you refuse to do," he said.
He ended the talk by encouraging attendees to give back to their communities, beginning with Hamilton.
NOTE: A WUTR interview with John Dau can be viewed here.