Former SEC Chairman Arthur Levitt Jr. to Lecture
---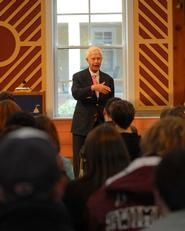 Arthur Levitt Jr., former chairman of the Securities and Exchange Commission (SEC) and proponent of tougher corporate accounting standards, will present a lecture titled "Regulation in the Financial Markets," on Friday, Oct. 2, at 4:10 p.m. in the Kirner-Johnson Auditorium at Hamilton. It is free and open to the public.

"There's little question that he has become one of the most powerful and effective SEC chairmen in memory," wrote BusinessWeek's Paula Dwyer in a 1997 article. The longest serving SEC chairman, Levitt served as the 25th chairman of the SEC, appointed by President Clinton in 1993. Investor protection was his top priority during his tenure. He left the SEC in February 2001.

Currently Levitt serves as a senior advisor to The Carlyle Group, a private global investment firm. He is also author of the best-selling book Take on the Street: What Wall Street and Corporate America Don't Want You to Know. Before becoming chairman of the SEC, he owned Roll Call, a newspaper that covers Capitol Hill. Levitt served as chairman of the American Stock Exchange from 1978-89.

The Arthur Levitt Public Affairs Center at Hamilton College is named for Levitt's father, Arthur Levitt, Sr., who was elected comptroller of New York six times -- the last time by the largest plurality ever recorded in a New York election. Levitt, Sr., was awarded an honorary Doctor of Laws by Hamilton College in 1979 for his "peerless reputation and efficiency in an office where corruption and confusion had been known to flourish." Arthur Levitt, Jr., received an Honorary Doctor of Laws from Hamilton in 1981. In 1980, the family of the late Arthur Levitt, to honor him as a long-time New York State public servant, made a significant commitment to Hamilton to establish the Arthur Levitt Public Policy Center.

Hamilton's Levitt Center is committed to creating opportunities for students to become involved in public affairs. The center contributes to the community through its speakers' series, research projects, surveys and collaborative efforts with local agencies. All events are free and open to the public. For further information, call 315-859-4451 or e-mail levitt@hamilton.edu.