Former U.S. Ambassador Walker '62, Zeller '04 and Currier '10 to Discuss Afghanistan
---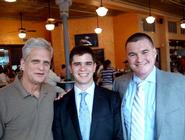 Hamilton College will host a panel discussion, "The Way Forward in Afghanistan," on Monday, March 1, at 7:30 p.m., in the Kirner-Johnson Auditorium. Panelists will include former U.S. Ambassador and Christian A. Johnson Distinguished Professor of Global Political Theory Ned Walker '62, First Lieutenant Matthew Zeller '04, and Hamilton student Max Currier '10. The discussion is free and open to the public.

Walker, former U.S. Ambassador and former president of the Middle East Institute, served as the Linowitz Professor of Middle East Studies at Hamilton in 2003 and 2005. Before assuming the presidency of the Middle East Institute, Walker worked with Colin Powell in the second Bush Administration as assistant secretary of state for Near Eastern affairs, a position he had previously held under Madeleine Albright during the second Clinton administration. During that time he helped initiate and negotiate U.S. policy toward Iraq and engaged in recalibrating U.S. policies toward Iran and the Middle East Peace Process. Walker's diplomatic career includes positions as U.S. ambassador to Israel (1997-1999), the Arab Republic of Egypt (1994-1997) and the United Arab Emirates (1989-1992), as well as deputy permanent representative of the U.S. to the United Nations (1992-1993).

First Lieutenant Matthew Zeller is a member of the U.S. Army Reserve and received his commission via Syracuse University's Army ROTC program in 2004. He graduated first in his class from the US Army Military Intelligence Officer's Basic course in 2005 and is a graduate of the U.S. Army's Combat Advisor's course. From April to December 2008, Zeller served in Ghazni, Afghanistan, as an embedded combat mentor to the Afghan National Army and the Afghan National Police. He earned a bachelor's degree in government from Hamilton College in 2004 and his master's degrees in public administration and international relations from the Maxwell School at Syracuse University in 2006. He is a 2004 recipient of the David Boren National Security Fellowship and is a native of Rochester, N.Y.

Max Currier, a senior at Hamilton from Manlius, N.Y., spent last summer researching the role of Provincial Reconstruction Teams in Afghanistan. Walker was his advisor on the project, which was funded by the Levitt Research Fellows program. The Levitt program provides students with the opportunity to work with professors on issues related to public affairs.