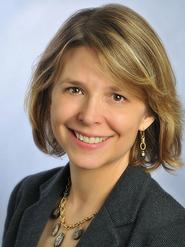 Lisa Forrest, director of research and instructional design, presented "Partners in Teaching and Learning: Peer Research Tutors at the Desk, in the Classroom, and Across Campus" on March 4 at the Western New York Library Resources Council (WNYLRC) conference. The conference, titled "The Wide Angle: Expanding Visions of Reference Services in the 21st Century," was held at WNYLRC headquarters in Cheektowaga, N.Y.
In the lead conference presentation, Forrest discussed Burke Library's role in Hamilton's culture of peer tutoring and assistance. She explained that through the development of the library's research tutor program, the library has expanded its ability to reach and assist more students.
Research tutors are recommended by faculty and trained by librarians to assist their peers. The program has allowed the library to extend its reference services by offering assistance later in the evenings as well as outside the library. Forrest noted that many students also appreciate the approachability of the reference tutors.