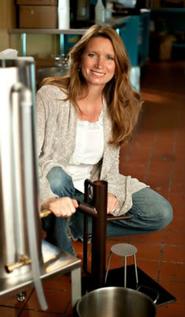 Thistle Farms/Magdalene founder Becca Stevens will present a lecture titled "Living Out Our Ideals in the Practical World" on Wednesday, April 8, at 7 p.m., in the Chapel. Stevens' lecture is sponsored by the STOP TRAFFIK organization and is free and open to the public.
Stevens founded the residential community of Thistle Farms in 1997, and the social enterprise in 2001. Thistle Farms, located in Nashville, Tenn., is run by the women of Magdalene who create natural bath and body products. While working at Thistle Farms, women learn skills in manufacturing, packaging, marketing and sales, and administration. It is a supportive workplace where women acquire the skills necessary to earn a living wage.
In her lecture, Stevens will discuss how her work with survivors of trafficking, addiction, and prostitution has taught her to be courageous and hopeful. Stevens hopes to inspire the audience with the message that love is the most powerful force for social change in the world.