Four Faculty Members Receive Summer Research Grants
---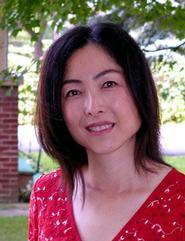 Four Hamilton faculty members have received awards to conduct research work during the summer. Associate Professor of Sociology Steve Ellingson and Associate Professor of Economics Julio Videras and were each awarded a Class of 1963 Faculty Fellowship. Assistant Professor of Biology Wei-Jen Chang and Assistant Professor of Japanese Kyoko Omori each received a Class of 1966 Career Development Award.
Ellingson plans to use his Fellowship to study sociological literature on the environment and redesign a new 200-level writing intensive environmental sociology course. He also plans to redesign his Research Methods course so that the environment is the focus of student research projects. Ellingson's new course, tentatively titled "Culture, Power and the Environment," will examine the complex social processes through which collectivities construct and contest environmental problems and their solutions.
The course will be organized around a series of extended case studies of some of the most pressing environmental issues facing the world including global warming and energy and toxins and environmental health. The class will examine how competing organizations and interests struggle to define and take ownership of each issue, how power and structures of domination influence flights over the environment and how culture is mobilized to raise consciousness and encourage action on the part of important audiences.
Videras plans to study the computer-based tool, Geographic Information Systems (GIS). GIS links data to geographical locations and can superimpose multiple layers of different data for the same location. GIS technology provides a powerful visual representation of social and economic data. For example, information about cases of acute respiratory illnesses can be linked to data about concentration of air pollutants, age distribution of the population and geographical features.
This type of multi-layered analysis is of great value to policy-makers and social scientists. Videras plans to incorporate GIS-generated maps into his Microeconomics and Social Economics classes. For example, he will use GIS-generated maps to show how the distribution of income overlaps with the ethnic/racial composition of different geographic units such as states, counties and zip codes. He hopes to illustrate the significant and severe income disparities across racial/ethnic groups in Oneida County.
Chang will use his award to develop a semester-long lab module serving student enrolled in Introductory Biology. He proposes to build a semester-long, inquiry-based learning lab module that includes both conceptual and skill training for performing research on ecology, genomics and evolutionary biology. He specifically plans to create a series of experiments that would allow students to investigate ecological and conservational question at a molecular level. That connects with Hamilton biology department's Utica Marsh module.
Omori plans to use her grant to study film theory and criticism in Japanese film and acquire additional materials to expand Hamilton's collection of Japanese film. A scholar of Japanese modernist literature of the 1920s, Omori has expanded her scope from analysis of literature and magazine culture to a wider examination of interactions across media between film and literature. She plans to study film theory and acquire knowledge about technology, forms and cinematography. Omori plans to develop a new course on Japanese film to be offered in 2009-10.