Four Students are DSJP Service Associates
---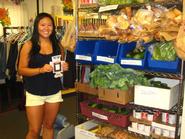 Four Hamilton students were selected as Diversity and Social Justice Project (DSJP) Service Associates for 2010. The program is designed to support students who wish to make connections between their own disciplinary or interdisciplinary work and the mission of the DSJP. This year's recipients are Wai Yee Poon '11, Lauren Howe '13, Denise Ghartey '12 and Caroline Davis '11. The service associates are funded by DSJP with matching funds from the Kirkland Endowment.

Poon is interning with Border Statements Collective, Inc., an association that uses "contemporary art practice in cultural preservation and education efforts," in Ruili City in the Yunnan Province. Poon will implement a project that uses book-making and creative writing workshops in order to empower Ruili youth and keep them from submitting to the prevalent drug culture and high crime rate.

Howe is working for the Northampton Survival Center in Northampton, Mass. She will be helping to improve nutrition for client families by finding more sources of fresh produce in the local community, reducing plastic waste by finding more cloth and reusable bag providers, and helping to supervise students working on the Kids Summer Food Program. She will also look further into USDA-related affairs.

Ghartey is an intern the Young People Project, a non-profit organization that utilizes math literacy as a tool for transforming high school- and college-aged youth into community leaders and organizers. As a contributor to the project, Ghartey will attend trainings, help to develop and facilitate workshops, complete site reports and reflection sheets, teach high school and middle school students, and attend local YPP meetings.

Davis has been working with the Provincial Peace Forum (PPF) in Kenya. She assists in leading pastoral communities in dialogue based on disarmament of pastoralist communities, and is also researching the peace needs and conflict resolution in the Southern Rift and Central Rift Valley in view of the 2012 political elections. She will also document and report on successful peace projects carried out by the PPF.