Fourth-Year Chinese Students Teach at Area Schools
---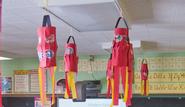 Eight seniors in Professor De Bao Xu's Chinese 495 course, Practicum in Chinese Language Education, have had a rewarding spring semester teaching elementary school students about various aspects of Chinese culture. The program, which collaborates with the Oneida-Herkimer-Madison Board of Cooperative Educational Services (BOCES), is funded through a U.S. Department of Education Foreign Language Assistance Program (FLAP) grant.

The Hamilton seniors participating are Sash Amarasuriya, Colin Clark, Allie Hesse, Randall Lee, David Loan, Andrew Quinney, Andrew Robinson and Gabe Rosen. They have gone in pairs to teach at several different elementary schools in the BOCES District, including General William Floyd Elementary School in Holland Patent, Clinton Elementary School, and Jones, Kernan, and Jefferson Elementary, all in Utica.

Every school visit thus far has been a huge success. Lessons have covered the Chinese New Year, Chinese family structure, and Chinese food. A lesson on Chinese art and calligraphy will be the final lesson covered this semester.

The Hamilton students have spent hours preparing for these Chinese culture lessons to ensure that each lesson was filled with creative hands-on activities and engaging PowerPoint presentations. They also made sure that each of the elementary school students was given his or her own Chinese name.

The most recent lesson on Chinese food was a tremendous hit. The 495 students instructed the children how to properly use chopsticks to pick up their Play-Doh "dumplings" and taught them how to write popular Chinese foods using Chinese characters. The children always go home eager to share new Chinese words and characters with their parents.