French Film Festival Presents Rust and Bone
---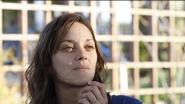 The Department of French is once again collaborating with the Kirkland Art Center in this year's presentation of new French films, the Tournées Festival, from Sunday, Feb. 2, through March 2. The Tournées Festival is a program of FACE (French American Cultural Exchange), in partnership with the Cultural Services of the French Embassy, which aims to bring contemporary French cinema to American college and university campuses. The Kirkland Art Center is a non-profit, community arts organization on the village green in Clinton.
The first film in the five-film series is Rust and Bone on Sunday, Feb. 2, at 4 p.m. in Bradford Auditorium, KJ. Film showings are free and open to everyone; suggested donations of $3. to the Kirkland Art Center are welcome.
Rust and Bone is an invigorating melodrama from Jacques Audiard, which centers on the explosive chemistry of two damaged souls: the beefy, penniless Ali, who has traveled south to Antibes with his five-year-old son to settle with Ali's sister in the hopes of starting a new life, and Stéphanie, a whale trainer who becomes a double amputee after a freak accident at the marine mammal park where she works. Viewers witness the evolution of their tumultuous relationship that, despite (or because of) their many differences and the obstacles they face, results in nothing less than a great love story.
The Tournées Festival is funded by an annual grant awarded to American colleges and universities to support the screening of contemporary French cinema. Grants are awarded in hopes that schools will begin their own self-sustaining French film festivals. FACE is a non-profit organization dedicated to nurturing French-American relations through innovative international projects in the arts, education and cultural exchange.